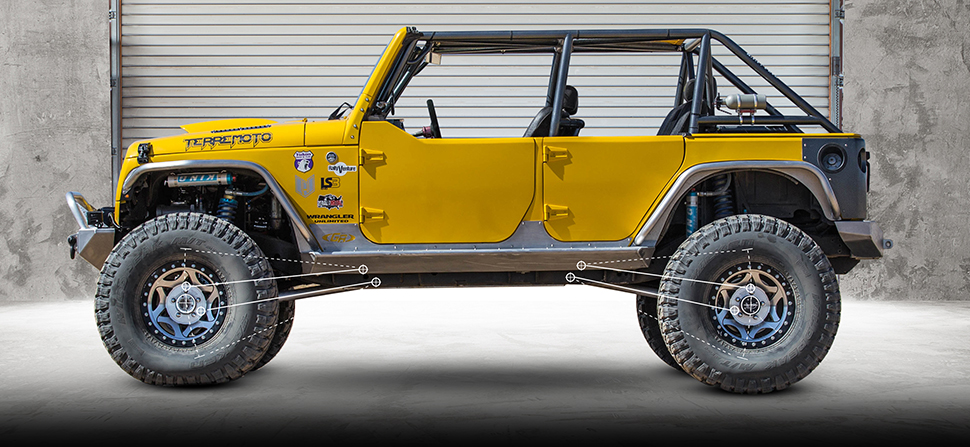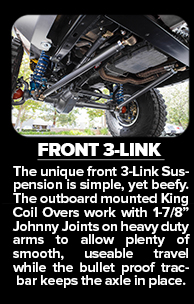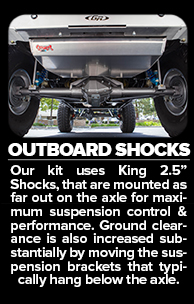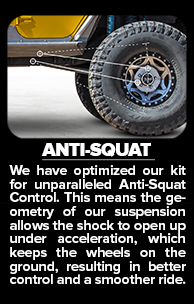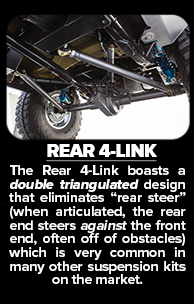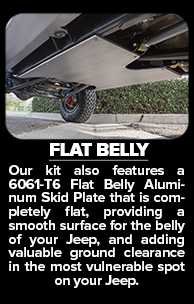 Been thinking about a coil over conversion for your Jeep Wrangler JKU?
This is the GenRight Off Road ELITE Coil Over Long Arm & Long Travel Suspension "System" for the Jeep Wrangler JK 4 door (fits 2007 to 2018).
This is the best suspension you can buy for a 2007 to 2018 Jeep Wrangler JKU! In fact, we proved this suspensions performance and durability by racing it KOH Feb of 2020.
Currently available is our 3rd generation, which has outboard mounted rear shock towers and the kit comes in pre-welded sub assemblies which cuts install time in half.
American Made, this suspension offers the highest level of performance and best ride quality on and off-road. In 2014 the GenRight Terremoto (equipped with this suspension) was featured in Crawl, Off Road Adventures, DUB and on the cover of JP Magazines.
Our founder, Tony Pellegrino took from his years of off-road racing his Unlimited Class Ultra4 off-road racer and used that as the performance standard for this suspension. This was a challenge since the 4 door is a long (and vulnerable) wheelbase vehicle… So we brought to market an unprecedented completely FLAT belly system that has the lower control arms tucked into the middle for protection from trail hazards (by using our unique rear mounted fuel tank). Combine that with up to a 3.0" diameter coil over shocks and you have the ultimate combination... a no compromise suspension for your JK!

Unlike other "kits" on the market, this suspension "system" that was designed to provide a smooth non-binding movement through the entire stroke of the suspensions travel (aka: articulation). We worked with the original factory Jeep CAD files to design this system and place the shocks in the optimal position to provide your vehicle the best articulation and dampening control for the best and most balanced ride. SEE VIDEO Yes, this package, replaces the entire Front and Rear suspension on your Jeep (JK) with the best components on the market and does it right for the last time!

Another hidden feature is that the control arms are NOT connected to the center transfer case skid plate either (most other long arm kits are). This simple feature makes access to servicing the transmission, transfer case, drive shafts and exhaust much easier.
As you can see from the price this is not a "bolt-on" kit! This suspension is welded to the frame and replaces ALL the cheesy factory brackets and mounts with new heavy duty 1/4" thick laser cut mounts!
Now, in a single click you get all of our best suspension components to convert your Jeep to coil overs! Yes, we have every upgrade you could want so your Jeep can be the best in class on and off-road!

Base Kit INCLUDES:
(1) Front 3 link Suspension Kit.

(1) Rear 4 link Double Triangulated Suspension Kit.

(14) Genuine Currie Johnny Joints with 1-1/4" shanks (left & right hand thread) for adjust-ability.

(1) Front Coil over shock mounting kit.

(1) Rear Coil over shock mounting kit (including new rear cross member).

(4) Bump Can Mounts (King Shock style).

(1) Universal Transmission Mount.

(4) Axle limit straps, quad wrap (SLSQ16).

(1) 3/8" thick 7075 Aluminum skid plate is optional


(4) King or FOX 2.5" Coil Over Shocks w/ Remote Reservoir and Springs (but 3.0" IBP's are optional).

(4) Urethane Bump Stops (but King or FOX 2.0" Hydraulic Air Bumps are optional).

(1) Hi Clearance 20 Gallon GenRight Gas Tank w/ Skid (but 25 and 36 gallon tanks are optional).

(1) Front Upper Control Arm Mounts (Axle Side).

(1) Rear Upper Control Arm Mounts (Axle Side).

(2) Rear water and dust proof Shock Tower Covers (to match the interior) see pictures.

(1) Set of all necessary Grade 8 mounting hardware.

(1) Set of detailed installation instructions.

Made in USA!

This ELITE kit is the equivalent of a 3.5" lift. It is recommended for Jeep JK's with up to 42" tall tires (requires non-stock axles). You will want to push your front axle forward approx. 2 - 3" as you go up in tire size.

All the kit pieces are made from heavy duty materials that have been proven on and off-road for years.
NOW Available: Chevy LS engine and 4L80 transmission mounts designed in CAD for the GenRight Elite JK Suspension System!

For more detail on the individual kit contents click on the hyperlinked part number after each item above.

IMPORTANT NOTES:
This kit was designed in Solidworks with Currie 60/70 (or Dynatrac Pro Rock 60/80) front & rear axles. The rotated diff covers to provide the extra clearance for a lower ride height and more up travel.
We order these axles from Currie & Dynatrac built to the "GenRight specification" (width, pinion angles, upper control arm mounts, diff covers and castor) to utilize the full potential of this kit, you must get the axles from us! Clearances were designed for less than 1/16" between the moving components.

Cutting and welding is required to install this kit.

The kit will also require some minor cutting of the inner fender wells to accommodate your out board shocks and tires.

This kit requires removal of the factory fuel tank and switching to the GenRight JK tank (3 models available) which is mounted behind the rear axle (under the vehicle).

This kit will require modifying the exhaust in several locations.

If you are thinking about an LS engine swap, install the GenRight Elite suspension system first! We have our own engine & transmission mounts that relocate the engine and trans to 100% for sure work with our suspension system.

The kit is not compatible with body lifts; we do not recommend a body lift on a JK.

ALL options on this page are already discounted as a package!

This kit is designed to retain the factory steering box location. We always recommend upgrading to Hydro Assist steering with 37" or bigger tires!

Changing the tire size and gears will require re-calibration of the factory Jeep computer (about $129).

Once you have placed your order online, a GenRight staff member will contact you to discuss the specifics of your build to tailor the shocks and various other part options to best suit your intended use. Or you can call and speak to one of our experts at 805-584-8635.

If you choose to use non recommended parts (i.e. Axles, Steering, Wheels, etc.) we can not tech support your install.

This system (1st generation) was introduced at the SEMA show November of 2011, today we are selling our 3rd generation kit.

It was then featured in CRAWL magazine and June 2012 issue of 4 Wheel Drive magazine because it is designed to convert your Jeep from a nice trail rig to an AWESOME rig that works great on and off road (what some call dual sport)!
7 Reviews
This system is incredible. If you are looking g to have your jeep drive with a plush ride on and off road, at any speed, this is what you need. I am comfortable cruising down the highway at 85mph and off reading at much higher speeds than I ever imagined. Rock crawgli g seems more like driving on crappy roads. Crawli g up 3ft vertical rock faces like they are street curbs! Build It once, build it right. You will be so glad you did.

After One Season of Off-Road

I installed this kit in my driveway last winter 2019, It was hard to start cutting off all the brackets on my G2 axles. Takes lot's of cutting and sawzall blades$$$. It was not too difficult to install, with my professional welder buddy. Customer service was very helpful. Our first trail was Fordyce; alone. Our brand new skid plate and Genright rock sliders got 1 scratch each on a 4 door on 37" Krawlers! A rock buggy stopped to compliment our 4 door JK! Since, we have done easy/high speed trails and hard core rock crawling trails. It excels at both! And the compliments keep pouring in. I have more confidence in the brackets and overall reliability of the Jeep now, the ground clearance is exceptional. Many say it's overpriced, but it is not. It's a much better deal than buying a bunch of weak bolt on stuff, and way better. It's very smooth and fun to drive on road too. It drives like a race jeep. The rear suspension is the real magic, it keeps the jeep level in extreme situations.

You won't find a more exact, better built suspension kit with so many customizable options beyond what you see on the site! The guys at GenRight will answer all your questions and make sure your wheeling one of the most capable Jeeps on the trail! This is the last suspension modification I will ever need to do!

Just got all the parts installed on the frame of my 09 jku and everything fits so nice. Genright products are next level! stoked to support American Made will write update as the build progresses

Total confidence regardless of terrain – there's a ton of moving parts in a build and this is the best performing and complete system! From start to finish the team made this the easiest build ever. Their suggestions were on point, they listened to what I wanted to do with my Jeep and the fit/finish is unbeatable. No matter what terrain I'm looking at I know this build will go wherever I point it. Not only do I recommend the Elite system, I would say don't let anyone else install it. Just like the name says, "GENuine ideas done RIGHT". Do it right, do it once.

Done right the first time!

What I received when I purchased the elite suspension kit was much more than a kit. I got the Genright race teams handcrafted version of the Ultimate JK. The jeep has been on the most extreme trails in Northern Cal and performed killer! It performs just as well on the ride home. I highly recommend having the Genright team do the install, their quality of work and depth knowledge is the best I've experienced. Some people say its pricey, but if you want the best race team in the industry to create a work of art under your rig that performs as good as it looks - its a bargain! Be warned - you will need an fresh tow strap for dragging your buddies through the gnarly stuff.

Ii started out with me wanting a better ride. I got a lot more than that! Yeah, it's not cheap, but it will be done right. You get more than a "kit", it is a "system". It is so well done that I had no idea a Jeep could drive this good on the street or the dirt! Save your $ and do it.